1
2
3
Wild Way Retreat October 2020
06/26/2020
2020 might have been a bit of a drag for you. But it's not over! Come join us for an adventurous week in the High Atlas of Morocco to change your perspective.
Whatever your reason for wanting to have a break, hike, climb, scramble, ride, talk, laugh, think, question your way, change your point of view, or re-orient yourself with a small group of wonderful people like you.
We offer these Wild Way retreats for people who might not be attracted to traditional "retreats" (especially when they involve massive amounts of money and luxurious, over-the-top accommodations). Our philosophy is that you don't need to ESCAPE from your life--you need to embrace it!
Often we feel trapped in life and in the choices we have made. We feel like we cannot be free to live how we want to live. BUT IT'S NOT TRUE.
"Man is condemned to be free; because once thrown into the world, he is responsible for everything he does." (Jean Paul Sartre)
Of course this kind of freedom is terrifying and not particularly comfortable. It's easier to live with the belief that we aren't free to choose how to live because it makes us feel absolved of our responsibilities--it's not our FAULT that we are unhappy.
But choosing not to choose is itself a choice.
However you have chosen to live (consciously or by default) YOU HAVE MADE THAT CHOICE.
The great news is that because we have this freedom to choose how we want to live, we can make changes and always learn to embrace our life and live more consciously.
We'd love to be part of that process with you. Spending a few days challenging your perceptions and expanding your experience out of your usual context is an awesome place to start.
The trip includes:
- 3 day nomadic hiking trip into High Atlas Mountains with accommodation in nomad camps
- 2 days mountain sports activities in Todgha Gorge (climbing, via ferrata, mountaineering, or horse riding - you choose)
- Yoga and hammam excursion
- Accommodation, meals, and transportation
- A chance to reconnect with yourself and your capacities as a free human being!
- An opportunity to meet new wonderful people who are on their own life-journeys and talk, think, share, and question
Check out our organised trips page to find out more information about our Wild Way 2020 retreat!
Christmas in Morocco 2020
06/26/2020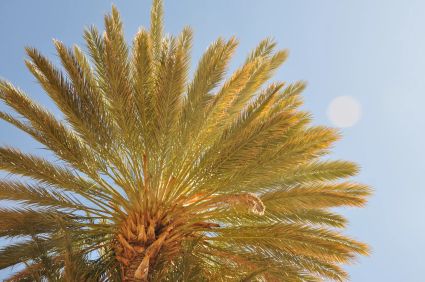 Christmas: all that stress and shopping and obligation and inevitable let down....
Why not quit Christmas this year and the lies the big box stores tell you. Come join us (and some new friends) for a calmer, more adventurous kind of holiday celebration.
Spend 5 days amid the peaceful palms under beautiful North African sun, climbing, hiking, off-road exploring, and escaping the mayhem back home!
This is a great way to spend the holiday if you are alone, or you're off travelling, or you want to avoid a commercialised Christmas, or if you just want to try something different.
Check out our organised trips page for more info on this special Christmas package!
Hot off the Press
03/09/2020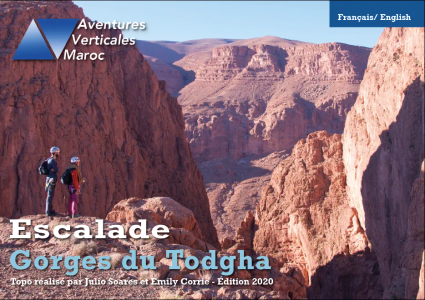 Over the past few months, we've been out to visit each of the 36 sectors in the gorges. With pen in hand, we scribble notes, climb routes, count bolts, tighten screws and replace equipment. We notice when a bolt has been stolen or damaged so we can come back to change it. We note if a route needs to be modified or more equipment added to make it more safe. We ensure that the grade is accurate.
Then, after months of checking and fixing and building, it's time to create the new guide book. We amass all of our information and photographs and a great love for this place and arrange it all (information, photographs, and love) in this, our 2020 edition of the guide book.
And now the book is complete!
And why should you purchase this book? (Besides the fact that we're proud to offer the most accurate and comprehensive guide book for the area..) Because it's by making and selling this book that we, Aventures Verticales Maroc, can continue to maintain the 475 (and counting) climbing routes in Todgha Gorge so that fellow climbers (you) can continue to enjoy the fabulous climbing here, and locals can continue to make a living hosting you in their guesthouses and restaurants. It's important work, and we love it!
The book is available for purchase from us by email or in our shop, Aventures Verticales Maroc, on the main road in Todgha Gorge.
You can also check out a sample PDF on our website if you're impatient to see our beautiful work ;)
Climbing with Orca Whales!
03/09/2020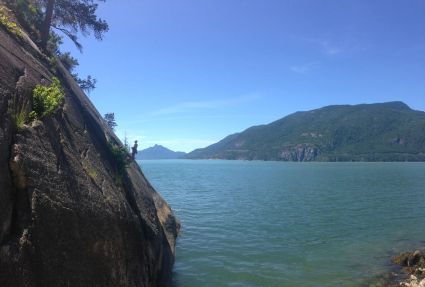 The sun is hot on my skin as I feed the rope through the belay device for Julio, who's climbing at lead above me. I'm sitting in my harness, my feet wedged against the granite wall, and below my belay station -- and I mean JUST below, like 1 metre away.. -- the cool green water of the Pacific Ocean is licking at the stone. It's our first day of climbing in Squamish, British Columbia, and we couldn't have picked a better crag to start. This is Seal Cove, a sheer face of granite jutting out into the ocean. To gain access to each of the routes threading up this slab, it's necessary to traverse 30m out from the shore to a belay station perched above the lapping water. How cool is that? And better still, we've got the place to ourselves.
Above me, Julio's reached his belay station and linked himself in. He turns around for the view and shouts: "Look!". I swing my head to see where he's looking. Out there, in the bay, I see two black fins and a flash of white skin. Orca whales! We watch them playing in the water, he on his end of the rope and me on mine.
--------
Want to climb with views like this? You can!
Join us for two weeks of climbing and camping in two of North America's top climbing destinations: Squamish, British Columbia, and Smith Rock, Oregon.
Both Squamish and Smith Rock also offer spectacular hiking so if you'd like to come climb but your spouse would rather hike, then we've got you sorted!
Our July 2020 trip still has a couple of spaces left but be quick and reserve soon -- you don't want to miss out on this fantastic opportunity.
You'll be accompanied on this trip by an experienced mountain sports instructor, accredited by the FFME.
Itinerary:
July 4 - Pick up at Vancouver airport, British Columbia and travel to Squamish.
July 5-9 - Climbing in Squamish with optional rest days for hiking in Coast Mountains or swimming in Pacific ocean.
July 10 - Travel to Smith Rock, Oregon
July 11-16 Climbing at Smith Rock State Park, Oregon, with optional rest days for hiking
July 17 - Travel to Vancouver, BC, and drop off at airport
Included:
Transportation

Camping in Squamish and Smith Rock

Breakfasts and dinners (communal kitchen)
Price: 1800 Euros / person
Group size: 6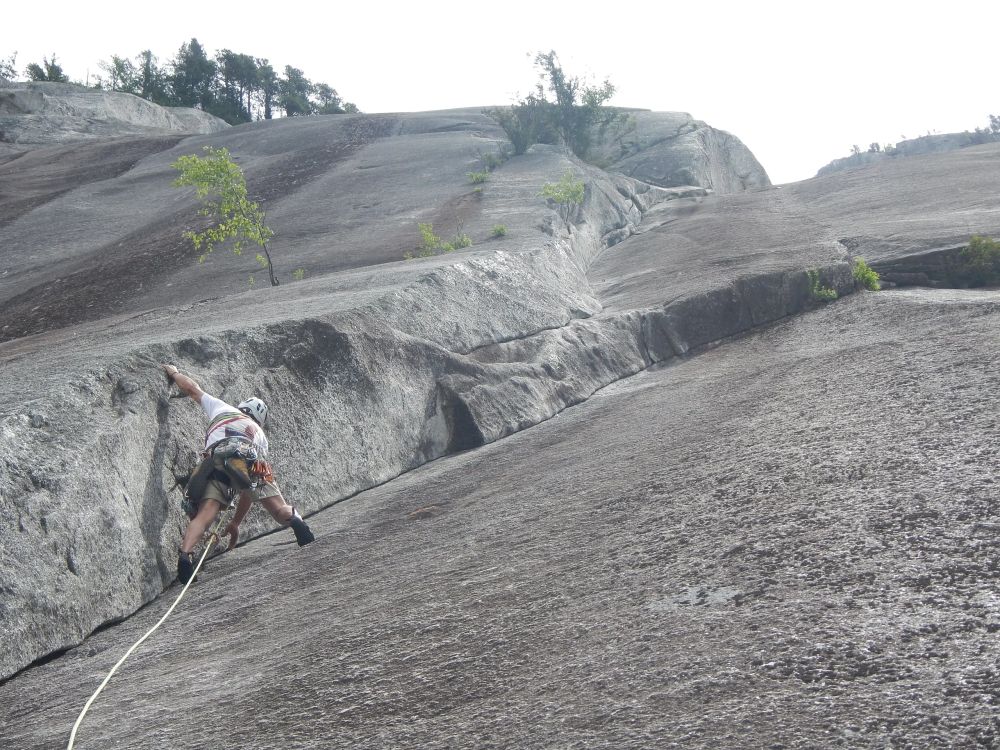 Mountaineering in Todra: Appreciate the Journey
03/07/2020

When the last climber pops over the ridge of rock to join the rest of us on the plateau, it's smiles and laughter all around. We share high-fives and congratulations. And then we all turn to admire the view: Tizgui Village far below on the banks of the Todgha River. It's spring time, and the multitudinous shades of green from the trees and alfalfa fields of the river gardens look luxurious in the midst of this orange and red-rock world. An oasis, to be sure.
--------
We've just summited Sunrise Ridge; a great reward for our efforts over the past few hours. But the moments we stand on the top of this cliff are few and no more important than the many moments we've spent reaching it, and the many more we'll spend to reach the valley floor again. The journey is the destination, as the saying goes. And here, especially, this sentiment is true.
It's always satisfying leading people on climbs, but there's something particularly special about the Sunrise Ridge mountaineering route. For many people, this is the first time they've ever experienced this kind of adventure: going off the usual, boot-beaten path and trying something new. As we scramble, walk, and climb our way over rocks and boulders and short walls, we feel ourselves gain confidence in our ability to navigate obstacles and get excited with the idea that there is no path--we have to make our own!
Unlike climbing, where it's necessary to have some experience with climbing at top-rope before starting out on a multi-pitch route, with this mountaineering route it's not necessary to have any experience--just a sense of adventure and a desire to spend a little extra time in your surroundings.
--------
What is it?
The Sunrise Ridge is a mountaineering route that takes about 6hrs to complete in its entirety (including 3 hours walking). You will walk, scramble, and climb your way 200m to the rim of the gorge. We use harnesses and ropes to keep you safe. No mountaineering experience is necessary, and we can adapt the route depending on your level of comfort on the rocks (more or less climbing).
We can accommodate groups of 1-4. Check out the "Trekking" page for more info and prices.